Organic Lions Mane Mushroom Powder – Bulk Extract
Hot water extracted from 100% Lion's Mane mushrooms
Still contains all non-water soluble components
Made from Certified Organic mushrooms
Gluten-Free, Non-GMO, Vegan
Guaranteed >30% Beta-glucans
No added starch, mycelium, or grain of any kind
Bulk mushroom extract powder, 60 and 150 serving options
Verified for quality at accredited 3rd party labs
Made in an NSF certified facility in the USA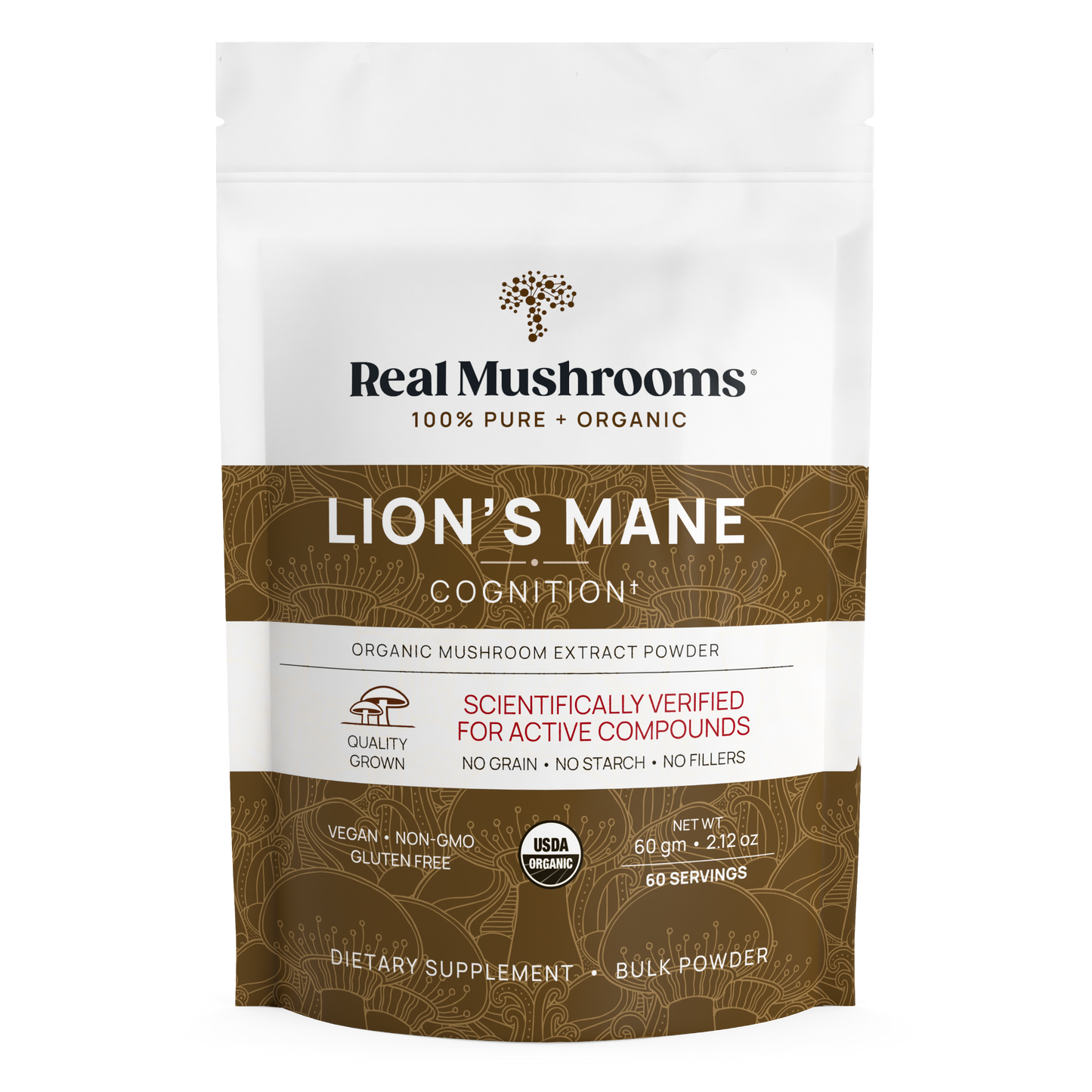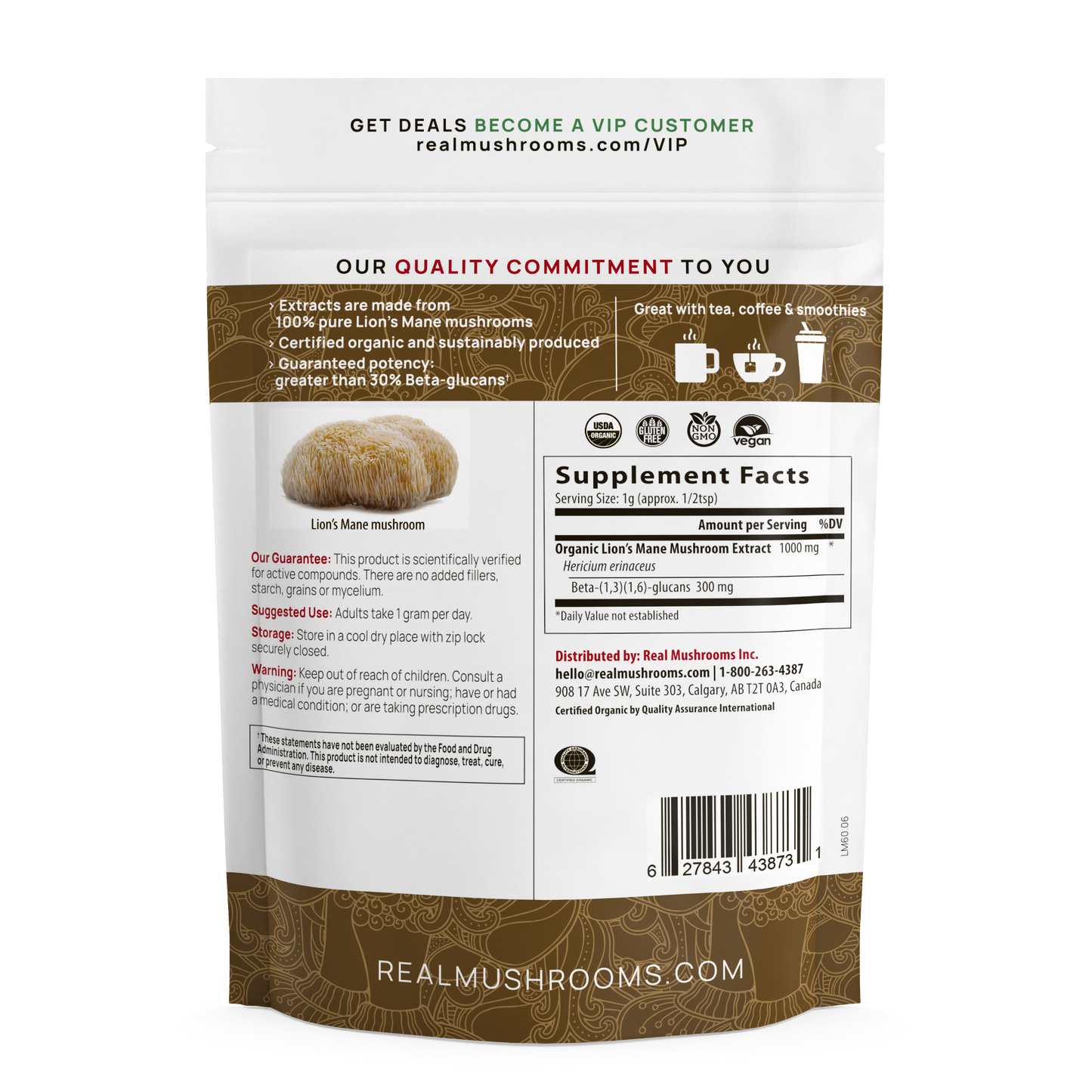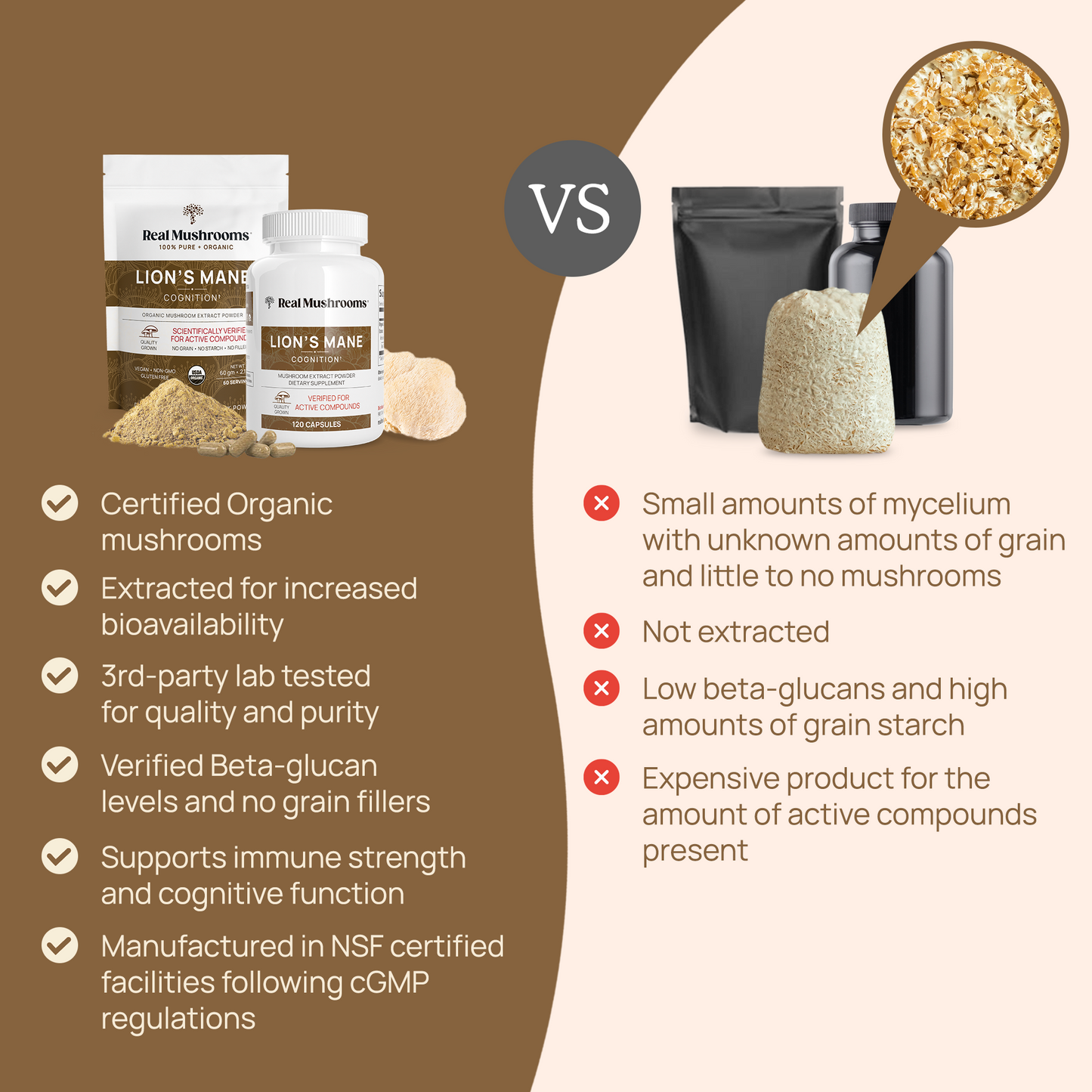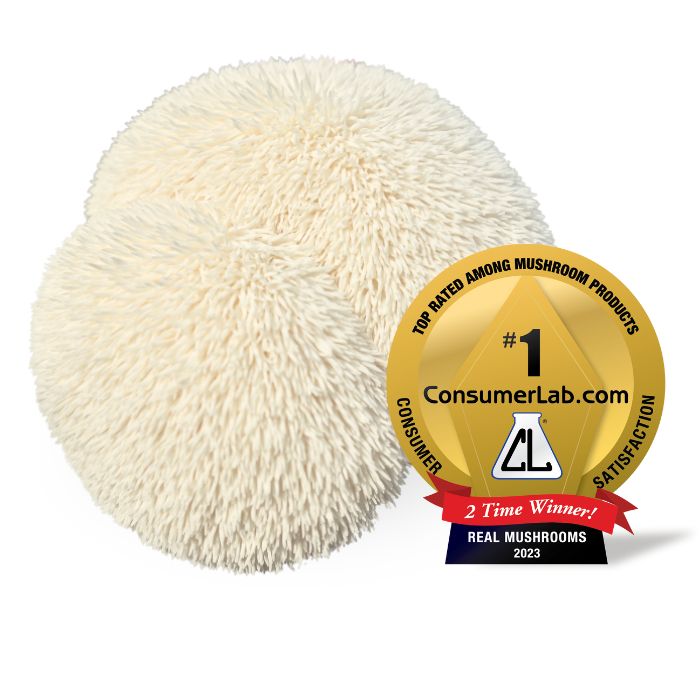 The Brain Mushroom
While traditionally used for digestion, Lion's Mane mushroom contains unique compounds that can help to support healthy cognitive function†.

All organically grown and extracted to increase the bioavailability of the beneficial compounds like beta-glucans.
Learn More about Lion's Mane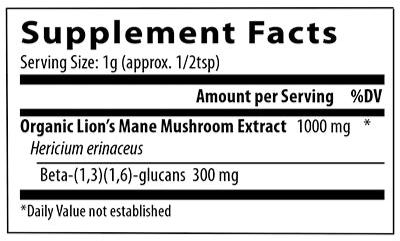 100% Organic Mushroom Extracts

Always extracted from certified organic mushrooms to unlock the beneficial compounds like beta-glucans and improve bioavailability.
Beta-glucans are the most important and abundant compound in these mushrooms so we always verify and guarantee them right on the label.
Unlike myceliated grain alternatives, our products contain absolutely NO grains or starchy fillers.
Buy Now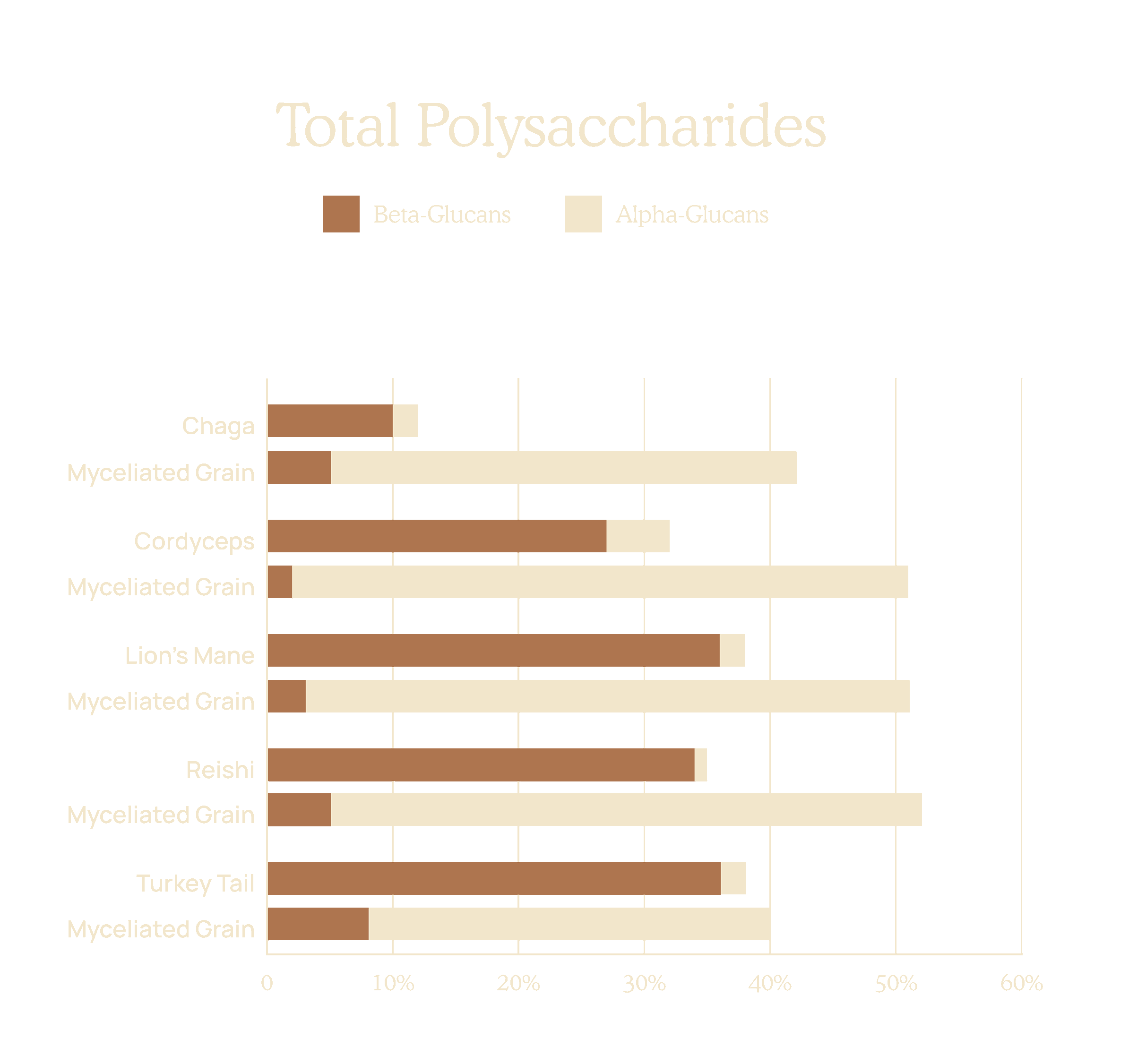 Why Beta-Glucans Matter
Beta-glucans are the most abundant and primary active compound found in mushrooms and mycelium.

These complex polysaccharides are where much of the immunological benefits come from which is why it is so important to validate and guarantee beta-glucan content.

A lack of beta-glucans can be attributed to many things like low quality ingredients, improper processing and extraction or the addition of fillers like grains (see alpha-glucans).

All Real Mushrooms products have verified levels of beta-glucans right on the label so you can trust that you're getting the benefits you deserve.
ConsumerLab's #1 pick for mushroom products!
We received this industry recognition for the last two years and running. This reaffirms our commitment to delivering the best, most reliable functional mushroom products to enhance your health journey.


Trust, quality and your well-being are at the heart of everything we do.
+ratings based on results of the 2023 ConsumerLab.com Survey of supplement Users.
More information at www.consumerlab.com/survey
Do You Really Know What's in Your Mushrooms?
Many products that claim to contain mushrooms actually contain none. What they are is the mushroom's root system, known as mycelium, which is grown on grains like rice and oats and this grain cannot be separated from the final product. This residual grain contributes high levels of starch which in turn dilutes the potential for active compounds like beta-glucans.

A 2017 study from Nature on reishi supplements found that 74% of products were inauthentic with 68% containing starch-like polysaccharides (ie. fillers).

ConsumerLab also found similar results in their reishi report and found Real Mushrooms to be their #1 choice.
Loved by Practitioners Around The World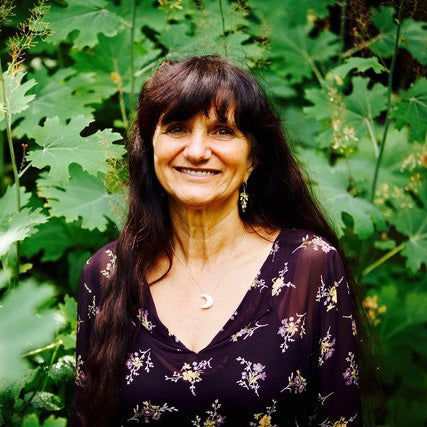 Rosemary Gladstar
Internationally Renowned Herbalist
"I can rave about these products. I love them. And also love the amazing customer service. By the way, the Mushroom Hot Chocolate is the best."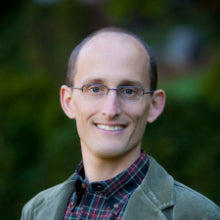 Dr. Mark Bricca ND
Naturopathic Physician and Acupuncturist
"I am so grateful to be able to recommend Real Mushrooms formulas to patients. They are of utmost quality, grown and processed properly in order to be truly rich in beneficial mushroom-derived beta-glucans."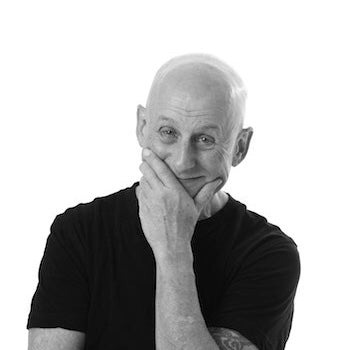 Michael Max LAc
TCM Practitioner and Acupuncturist
"Real Mushrooms blends modern science with ancient wisdom to bring you potent and pure mushroom powders. I use Real Mushrooms in my clinical practice because I trust the quality and potency of their products."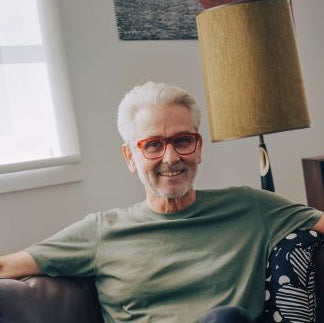 Lee Carroll BHSc
Medical Herbalist
"The brands I choose to use in clinic and recommend must meet my stringent high standards. Real Mushrooms ticks all the boxes for me and sets the benchmark for quality, safety, efficacy and trust."
Frequently Asked Questions
Where are your mushrooms from?

All our mushroom extracts are from the leading supplier of organic mushroom extracts: Nammex. They have over 40 years of mushroom growing experience and were one of the first companies to bring organic medicinal mushroom extracts to North America.

Their ingredients go through rigorous quality control and are tested twice for heavy metals, agricultural chemicals and microbial contamination to ensure they meet all standards for dietary supplements of this nature. All of their extracts are made from certified organic mushrooms (fruiting bodies), organically grown or wildcrafted from deep within mountain regions of China.

Mushrooms used for dietary supplements are seldom grown in North American since it is too expensive. In fact, China is the leading supplier of mushrooms worldwide and supplies over 90% of the world's mushrooms. It has a rich history of mushroom use as both food and medicine and is the birthplace of mushroom cultivation with shiitake being farmed in the early 1200s. China is one of the only places in the world where you can get 100% organic mushroom (fruiting body) extracts that can be sold at an affordable price.

Why do you use mushrooms and not mycelium?

It is extremely important to distinguish the difference between mushrooms and mycelium.

Mushrooms are the "fruit" and reproductive stage of these organisms while the mycelium is the root system or "body" of the fungus.

Mushrooms contain much higher levels of active compounds like beta-glucans and have a very large body of research. They have also been consumed for thousands of years as food and many health benefits have been shown from just mushroom consumption.

Mycelium is commonly grown on a grain substrate and this grain cannot be separate from the mycelium so much of the final product is actually grain with no mushrooms present. This shows up in high amounts of starch and low amounts of active compounds like beta-glucans.

For these reasons, Real Mushrooms only utilizes mushrooms in all of their products with verified levels of the important active compounds like beta-glucans and always guarded against starchy fillers like grain.

How can Lions Mane benefit me?

Some studies suggest it can boost Nerve Growth Factors (NGF). This is a protein that is needed for the growth of sensory neurons. It also enhances the immune system since it contains Beta D-Glucans.

Can Lions Mane help with cognitive issues?

There has been research in adults with mild memory problems associated with aging found that those taking Lion's Mane extract had better brain function compared with control participants who did not ingest the mushroom. All of this indicates that Lion's Mane mushroom is an amazing helper for healthy brain function and may even support neurogenesis.

Why do you only list beta-glucans and not polysaccharides?

Beta-glucans, which are a polysaccharide, are the most well researched medically active compound in mushrooms. For this reason, we specifically measure beta-glucan levels on our products.

We do not believe in using polysaccharides as a measure of quality as it can be easily doctored using starch-like substances like grains.

Find Your Mushroom

20,000+ Reviews

Whether capsules or powders, we've got you covered.

Choosing a selection results in a full page refresh.