Collection:

Reishi Mushroom Extracts
Certified Organic Mushrooms
Extracted for increased bioavailability
Verified Beta-glucans & no grain fillers
3rd party lab tested for quality + purity
Superior Quality
Our organic mushroom supplements are made with zero grain fillers or mycelium. They are extracted and third-party tested for the highest potency and purity, so you reliably get the full benefits of these multifunctional mushrooms.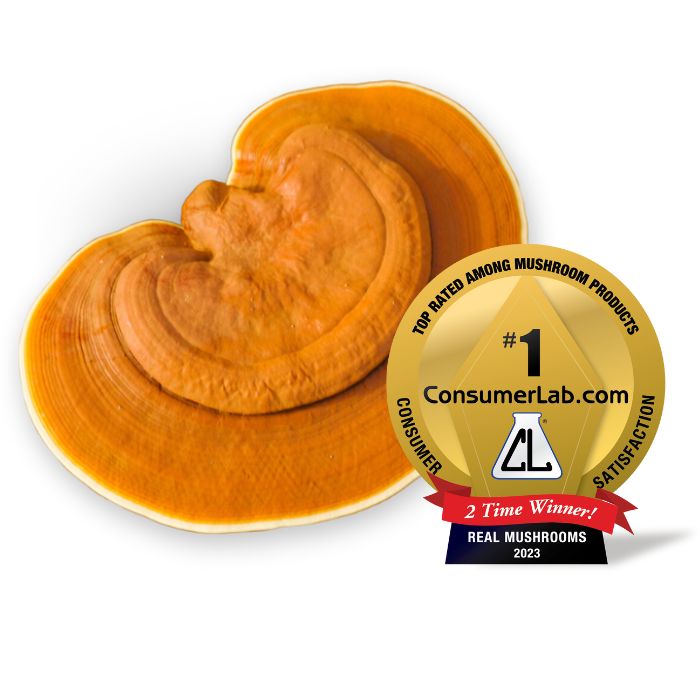 ConsumerLab's #1 pick for mushroom products!
We received this industry recognition for the last two years and running. This reaffirms our commitment to delivering the best, most reliable functional mushroom products to enhance your health journey.


Trust, quality and your well-being are at the heart of everything we do.
+ratings based on results of the 2023 ConsumerLab.com Survey of supplement Users.
More information at www.consumerlab.com/survey
Jordan
Real Mushrooms Customer
"I love the Reishi mushroom capsules. I've seen an improvement in my sleep, more dreams and I've noticed brighter skin and better mental clarity through the day."
Miles
Real Mushrooms Customer
"It helped turn down the volume of my monkey mind and over time I noticed I was getting longer and longer stretches of uninterrupted sleep. My nutritionalist's recommendation of Real Mushroom products was based on her research of mushroom products for purity and found them to be the cleanest on the market."
Anne
Real Mushrooms Customer
"I've been struggling with insomnia [quality sleep / sleep issues / falling asleep] for about a year and have tried many natural remedies with no help. After two months of taking 2 reishi mushroom capsules twice a day I've noticed a significant improvement in the length and quality of my sleep."
Dan
Real Mushrooms Customer
"Relaxed, and restful sleep! Ever since I began taking the Reishi capsules at night, I have been able to fall asleep faster, sleep restfully throughout the night, and wake up feeling more rested. It's definitely a must-have in my daily routine!"
Devonny
Real Mushrooms Customer
"I was feeling unwell during the days and then getting little sleep at night due to palpitations. I have been taking the Reishi as directed and am on my second bottle of the capsules. My symptoms have improved and I am getting better sleep at night, too. I will continue to take this product as it works!"
Find Your Mushroom
20,000+ Reviews
Whether capsules or powders, we've got you covered.