Collection:

Chaga Extracts
Certified Organic Mushrooms
Extracted for increased bioavailability
Verified Beta-glucans & no grain fillers
3rd party lab tested for quality + purity
Superior Quality
Our organic mushroom supplements are made with zero grain fillers. They are extracted and third-party tested for the highest potency and purity, so you reliably get the full benefits of these multifunctional mushrooms.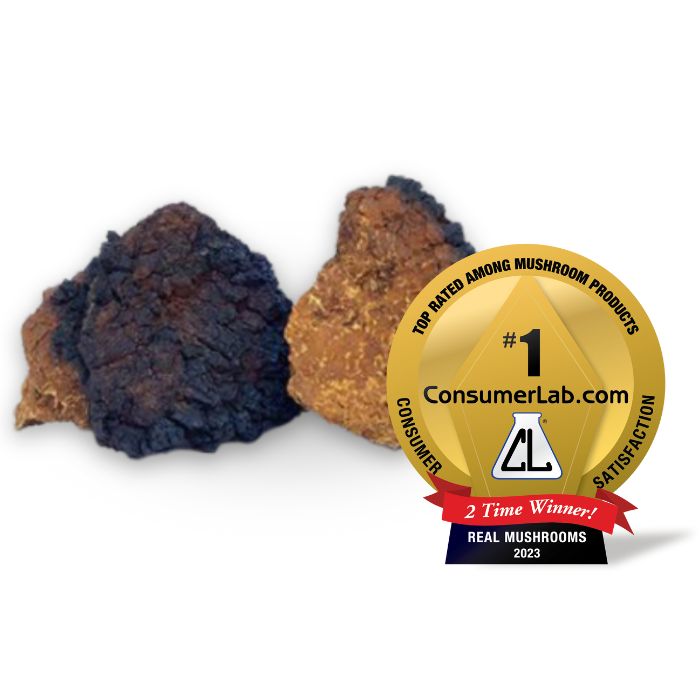 ConsumerLab's #1 pick for mushroom products!
We received this industry recognition for the last two years and running. This reaffirms our commitment to delivering the best, most reliable functional mushroom products to enhance your health journey.


Trust, quality and your well-being are at the heart of everything we do.
+ratings based on results of the 2023 ConsumerLab.com Survey of supplement Users.
More information at www.consumerlab.com/survey
Satya
Real Mushrooms Customer
"I absolutely LOVE your company! The service is incredible and the products top-notch. I started taking chaga 2x per day and my intestines were thanking me! I feel so healthy taking this product and I recommend Real Mushrooms to all my friends."
Daniel
Real Mushrooms Customer
"The Chaga that they provide is top notch. It always helps me when I'm feeling sick or have an upset stomach."
Cindi
Real Mushrooms Customer
"The chaga capsules have provided a safe and high quality method of ingesting the chaga mushroom powder. I am in my late sixties and attribute both my cognitive ability and robust immune system to this product."
S. KL
Real Mushrooms Customer
"I use Chaga in my mushroom coffee every morning for digestion support. I think it has really help my gut and I will continue to use it. Real mushrooms has great products."
Find Your Mushroom
20,000+ Reviews
Whether capsules or powders, we've got you covered.