Mushroom Relax Pet Chews
A tasty treat containing comforting Lion's Mane mushroom and settling Reishi mushroom extracts
Includes amino acids and adaptogens to relax and soothe your pet
Good for travel, stressful noises and when company comes to visit
80mg of mushroom beta-glucans in every chew
Up to 60 servings of 4g pet chews
Verified for quality at accredited 3rd party labs
Formulated and Designed by Dr. Rob Silver DVM, MS
A Functional Treat
Soothe and calm your pet with functional mushrooms and adaptogens.

Reishi and Lion's Mane mushroom extracts are blended with relaxing amino acids and soothing herbs to help your furry companion destress and chill out.
Buy Now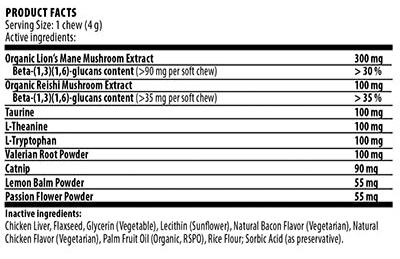 100% Organic Mushroom Extracts

Always extracted from certified organic mushrooms to unlock the beneficial compounds like beta-glucans and improve bioavailability.
Beta-glucans are the most important and abundant compound in these mushrooms so we always verify and guarantee them right on the label.
Unlike myceliated grain alternatives, our products contain absolutely NO grains or starchy fillers.
Buy Now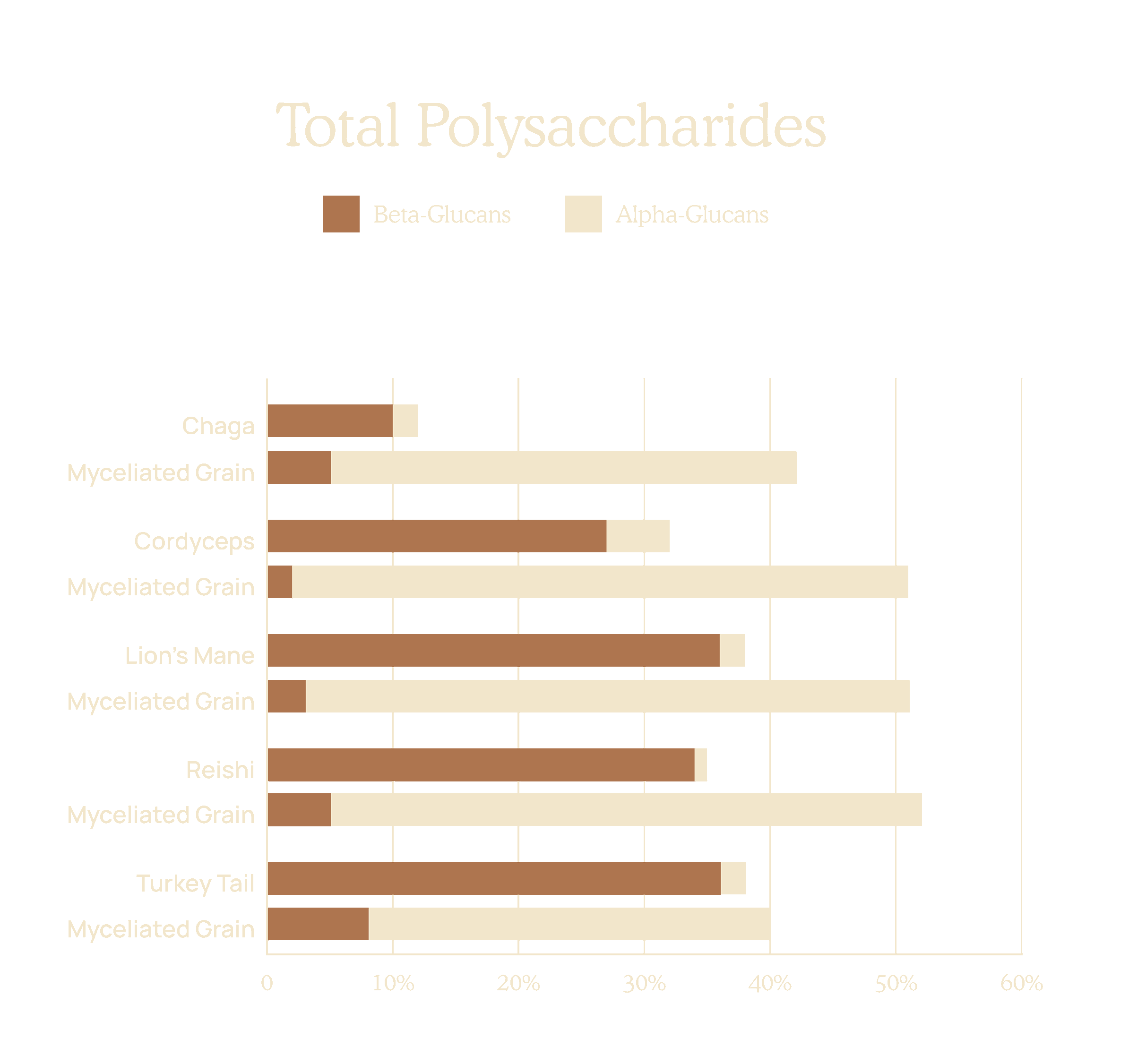 Why Beta-Glucans Matter
Beta-glucans are the most abundant and primary active compound found in mushrooms and mycelium.

These complex polysaccharides are where much of the immunological benefits come from which is why it is so important to validate and guarantee beta-glucan content.

A lack of beta-glucans can be attributed to many things like low quality ingredients, improper processing and extraction or the addition of fillers like grains (see alpha-glucans).

All Real Mushrooms products have verified levels of beta-glucans right on the label so you can trust that you're getting the benefits you deserve.
ConsumerLab's #1 pick for mushroom products!
We received this industry recognition for the last two years and running. This reaffirms our commitment to delivering the best, most reliable functional mushroom products to enhance your health journey.


Trust, quality and your well-being are at the heart of everything we do.
+ratings based on results of the 2023 ConsumerLab.com Survey of supplement Users.
More information at www.consumerlab.com/survey
Do You Really Know What's in Your Mushrooms?
Many products that claim to contain mushrooms actually contain none. What they are is the mushroom's root system, known as mycelium, which is grown on grains like rice and oats and this grain cannot be separated from the final product. This residual grain contributes high levels of starch which in turn dilutes the potential for active compounds like beta-glucans.

A 2017 study from Nature on reishi supplements found that 74% of products were inauthentic with 68% containing starch-like polysaccharides (ie. fillers).

ConsumerLab also found similar results in their reishi report and found Real Mushrooms to be their #1 choice.
Loved by Vets Around The World
Dr. Neal Sivula DVM
Dancing Paws Animal Wellness Center
"The majority of my practice are geriatric dogs and cats that have a variety of chronic diseases. I believe that functional mushrooms have a place in the treatment plan for most if not all of these patients. I trust Real Mushrooms sourcing, processing, and production and I love the broad spectrum of mushrooms in this product."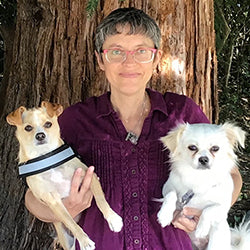 Dr. Jennifer Luna Repose DVM
New Earth Pet Healing
"As a holistic house call veterinarian, I get to know my clients in an intimate nature as they look to me for guidance in selecting effective supplements for their fur babies that are organic, sustainably sourced, and easy to administer. Real Mushrooms checks off all these boxes and my clients have been very pleased with how effective they are in their pets."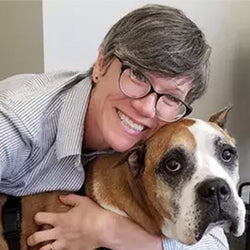 Dr. Sue Howell DVM, CVFT, CVA
Thrive Wholistic Veterinary Care
"5 defenders is my "go to" for immune support. It is a great addition to most protocols, and compliance is good. I add the capsule to the food, or open the capsule and sprinkle the powder on the food. So far I haven't had any pets refuse. Even cats!"
Dr. Anne Reed DVM
All Paws Holistic Veterinary Clinic
"It's interesting that we've found a way to cultivate Lion's Mane to support our aging population- the plants hear our calls for help. The Relax blend is a really great combination. I can't keep in on the shelf. Need to go order more…"
Frequently Asked Questions
Where are your mushrooms from?

All our mushroom extracts are from the leading supplier of organic mushroom extracts: Nammex. They have over 40 years of mushroom growing experience and were one of the first companies to bring organic medicinal mushroom extracts to North America.

Their ingredients go through rigorous quality control and are tested twice for heavy metals, agricultural chemicals and microbial contamination to ensure they meet all standards for dietary supplements of this nature. All of their extracts are made from certified organic mushrooms (fruiting bodies), organically grown or wildcrafted from deep within mountain regions of China.

Mushrooms used for dietary supplements are seldom grown in North American since it is too expensive. In fact, China is the leading supplier of mushrooms worldwide and supplies over 90% of the world's mushrooms. It has a rich history of mushroom use as both food and medicine and is the birthplace of mushroom cultivation with shiitake being farmed in the early 1200s. China is one of the only places in the world where you can get 100% organic mushroom (fruiting body) extracts that can be sold at an affordable price.

Why do you use mushrooms and not mycelium?

It is extremely important to distinguish the difference between mushrooms and mycelium.

Mushrooms are the "fruit" and reproductive stage of these organisms while the mycelium is the root system or "body" of the fungus.

Mushrooms contain much higher levels of active compounds like beta-glucans and have a very large body of research. They have also been consumed for thousands of years as food and many health benefits have been shown from just mushroom consumption.

Mycelium is commonly grown on a grain substrate and this grain cannot be separate from the mycelium so much of the final product is actually grain with no mushrooms present. This shows up in high amounts of starch and low amounts of active compounds like beta-glucans.

For these reasons, Real Mushrooms only utilizes mushrooms in all of their products with verified levels of the important active compounds like beta-glucans and always guarded against starchy fillers like grain.

What is the recommended dosage for my pet?

1 chew for each 20-40 pounds of body weight daily, or as recommended by your veterinarian.

If your pet is under 20 pounds, you may still give them 1 chew daily.

What mushrooms are contained in the Mushroom Relax Pet Chews?

Our Mushroom Relax Pet Chews contain settling Lions Mane, and calming Reishi mushroom extracts.

How can the Mushroom Relax Pet Chews help my pet?

The Mushroom Relax Pet Chews may help your pet to settle down in situations of high stress, like before a car ride, or before guests come over to the house.

We suggest giving your pet the Mushroom Relax Pet Chews 1-2 hours before a stressful event to get the most benefit.

Can the Mushroom Relax Pet Chews be given to my pet daily?

Yes, you may give these to your pet daily. Since the chews contain mushroom extracts and other synergistic herbs, they are safe to give daily.

Of course, if you do have any concerns, we recommend reaching out to your veterinarian for more guidance on this.

Find Your Mushroom

20,000+ Reviews

Whether capsules or powders, we've got you covered.

Choosing a selection results in a full page refresh.